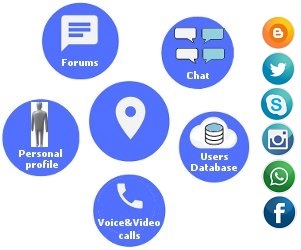 Our platform is based on big firms cloud services like Amazon AWS, Google Cloud, Facebook. So you get High Level and modular platform that can grow with your company.


With the platform you get a ready-to-use Database on cloud with all the users details.


Astal Platform has support multi-screens and multi-devices per user.


Astal Platform includes many options for you to choose regarding the user Login,authentication and registration.
User can register and login with: Email-Password, phone number, Facebook account, Twitter account,
MFA (user receives a message to hos/her mobile with Pin Code), Location, other details we extract from the device.


Astal Platform includes Forum for your users.


Astal Platform includes Blog for you to write your company's news


You also get Chat Room.


Astal Platform is connected to Social Networks, so users can share their experience from your product with their friends.